Due to a few incidents of people handling firearms in the picnic table area, beginning July 1, 2011 ALL FIREARMS brought in from the parking lot must be either CASED or HOLSTERED. You will not be permitted to bring UNCASED FIREARMS onto the range. For those of you who use carts to transport your firearms (e.g. Cowboy Shoots), as long as the firearm is SECURED onto the cart, you CAN bring these firearms onto the range.
By Dan DeBlasio, Staff Writer, Citizen's News
As I drove down the dim, wooded Black Forest Road, I noticed a sign that read, "Naugatuck State Forest." This was the only item assuring me that I was actually still in the borough.
I was headed for my first afternoon outing at High Rock Shooting Association. Commonly referred to as High Rock Range, HRSA is a pistol and rifle shooting range located in the depths of the Naugatuck State Forest. Read the rest of this entry »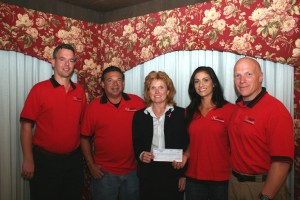 The National Rifle Association's Women On Target program recently held an instructional shooting clinic for women only at the High Rock Shooting Range in Naugatuck, CT, sponsored by the High Rock Shooting Association. Read the rest of this entry »
After a three-day intensive class on range safety operations, we have a bunch of new NRA-certified Range Safety Officers in HRSA! Congratulations to those who took the course!
From the Office of the Director of the Civilian Marksmanship Program (www.odcmp.com):
"The Blue Trail Range in Connecticut is under attack from a legal assault that appears to be intended to close this popular facility.  An organization that is fighting to keep the range open for public use is asking for assistance and support.  Save Blue Trail Range, Inc.'s mission is to raise funds for the pur­pose of paying the necessary legal, consulting, construction, environ­mental, public relations, and other costs associated with ensuring the con­tinued daily operation of the Blue Trail Range.  Blue Trail Range needs fi­nancial assistance to continue to operate and remain open.  A second law­suit aimed at closing the range or restricting its activities has now been filed.  One of Blue Trail Range's attorney's, Craig Fishbein, calls this a frivolous lawsuit, but expenses to defend against these suits are already over a quarter million dollars.  Litigation will drive these costs even higher, possibly as high as one million dollars.  The range needs the continued support and help of sportsmen who are concerned about keeping this ma­jor shooting sports facility in New England open. Click here to read more – http://www.odcmp.org/1008/SaveBlueTrailRange.pdf" 
To learn more about the effort to save Blue Trail Range, please visit: http://www.savebluetrailrange.org/